An old stock market rule says: "Buy strong stocks and avoid weak stocks."
Equities that are creating a new all-time high (a new high point in a defined period for example, 52 weeks) have a momentum and are generally classified as stronger shares. Such shares should  be considered more closely, added to a watchlist and analyzed on the same day or following week. To facilitate the screening and creation of watchlists, we offer you the Last High Breakout Indicator and the Last High Breakout Condition.
Settings
In the Last High Breakout indicator, you are able to define the number of days to measure if a new peak has occurred. By default, both scripts use 365 days. This period will be used to calculate if the share has marked a new high (in the last 365 days). Some stocks create a new higher point and consolidating on this higher level, or even declining slightly, to create a new high later in time. To display these shares even longer, you are able to set a special period of time in which the signal is still displayed. By default this period is 14 days. You will receive a signal on all shares which have been created a new 365 day high in the last 14 days.
Example
In the chart below you can see the stock Goldman Sachs, which has created a new 365 candle high at the end of November. The breakout is indicated in the chart with a bright green arrow. Dark green arrows indicate that a breakout has occurred during the last 14 days. Since the share has continued to develop new higher points, several light green arrows are displayed in the upward movement. In the consolidation at the level of 236 to 244 USD, the dark-green arrows will be displayed so the share will not disappear from your field of view. The last high breakout condition below the chart show the constant signal of 1, which is an active breakout signal. If you do not need this 14-day echo function, simply set the value to 1 in the parameters section.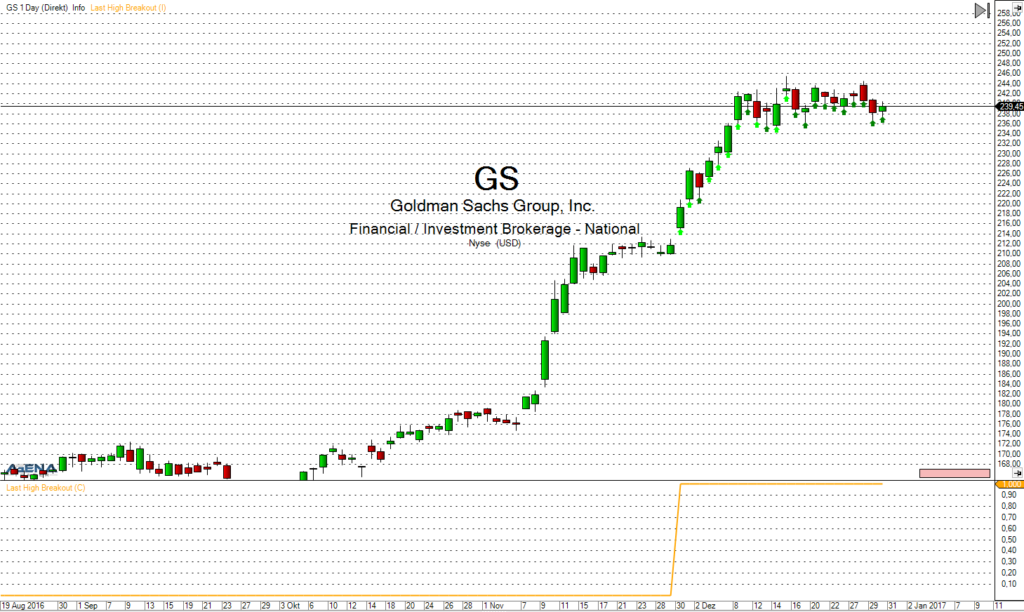 Download
Last High Breakout Indicator and Condition are part of our free basic package.