The chart below shows the Visa share (symbol: V) with one day bar chart. On October 30, 2014, the Visa share reached an opening gap of slightly more than 6% and this gap was not closed in the following weeks. Our Momentum Up Gap Indicator, as well as the Momentum Up Gap Condition detects such gaps and shows you the presence with the signal value of 1. You will see a bright green arrow when this gap occurs. You can use the Momentum Up Gap Scripts on charts or directly in the scanner. If you want to see an overview of all stocks with a gap you should use it in the scanner and sort it by this column. Dark green arrows show you that in the last days a momentum up gap has occurred. By default this setting is 14 days.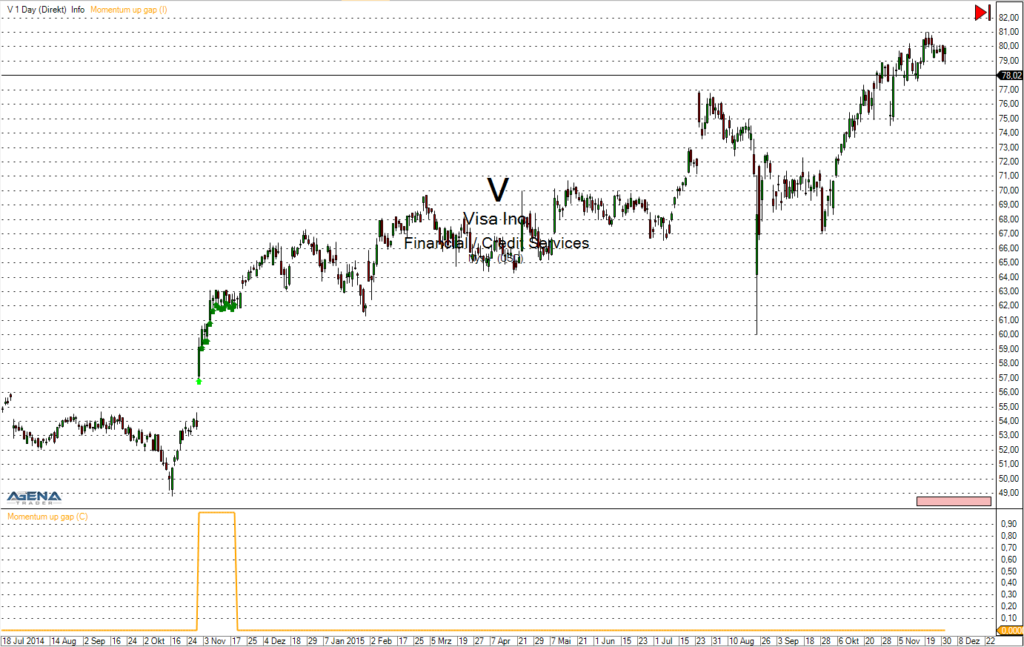 By default, the Momentum Up Gap Indicator and Condition searches for price gaps that are at least 3% or greater. You can change this setting via the Percentage field and search for smaller or larger price gaps. You can adjust the echo function using the Candles setting. In the example below, you will see the momentum up signal will be displayed for 14 days. If you only want to display the signal on the day it has occurred, set this setting to 1. In the Plots area, you can adjust the appearance of the signal like color, line width, and dash style.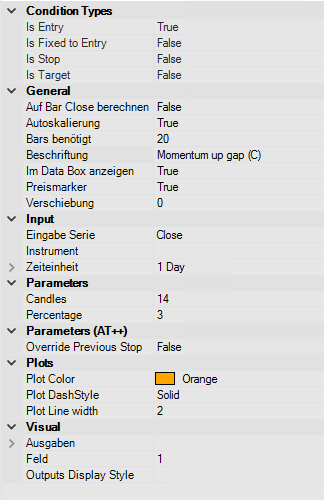 Gaps
Course gaps are areas on the bar chart where no pricing activity has taken place. For example, if a share opens above the last high of the previous day and does not close this price difference during the same day, there is an upward gap. In a downward trend, the current high is below the low of the previous trading day.
Gaps are usually a sign of strength or weakness. Upward gaps are a sign of market strength and downward gaps usually a sign of weakness. Gaps can occur at all timeframes and have a higher significance on long-term charts (week and month). Our Momentum Up Gap Indicator and Condition is designed for one day bar charts.
In the literature, the following different gaps are usually discussed: breakaway gap, the continuation gap and the exhaustion gap
Download
Momentum Up Gap Indicator and Condition are part of our free basic package.