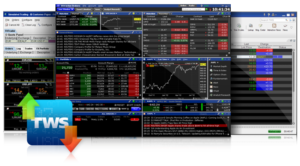 As mentioned in the posting "Financial trading in 24/7 continuous operation", there is an open source project on GitHub which allows you a deeper configuration of the broker software TWS. In addition to a variety of advantages, it also allows you a 24 hour operation of trading with financial products. Well, the installation process of IBController is easy if you know what you are doing. In this article we would like to provide you a quick start guide to make this process easier.
Installation Trader Workstation (TWS)
The broker software TWS is available in two versions. A latest version that checks every day for updates and an offline version that does not make automatic updates. IBController does only work with the offline version!
You can download the offline version of TWS here.
This article refers to the latest version of IBController in version 3.2.0 from June 3 and only works with a TWS in English language. Thus you have to switch the language of the TWS to English before installation and configuration of IBController.
Now download the offline version of the TWS on your computer and then run the TWS broker software to set the language setting into English and do a first test if everything is fine. If you have successfully connected to your broker (Interactive Brokers or Captrader), close the TWS.
Installation text editor
To configure the IBController, we need a text editor.
We recommend that you use one of the following programs to customize the IBController configuration files:
Filename extension Windows
Most Microsoft Windows installations simply hide file extensions in Windows Explorer. This sometimes leads to pretty bad usability because files with the same names appear. We recommend that you disable this setting in your Windows Explorer, so that you are able to see all file extensions.
The following link shows you how to enable this feature in Windows 7, Windows 8, and Windows 10:
Installation IBController
IBController is open source and is provided free of charge on GitHub. Under the following link you can download the currently valid version 3.2.0.
Download IBController Version 3.2.0
Please visit GitHub and scroll down to the end of the page, download the * .zip file to your computer and unpack the * .zip file.
Now that we have all the important tools and programs available, we are ready to start with the configuration of the IBController in our article "Installation IBController for automatic 24h stock trading (part 2)".